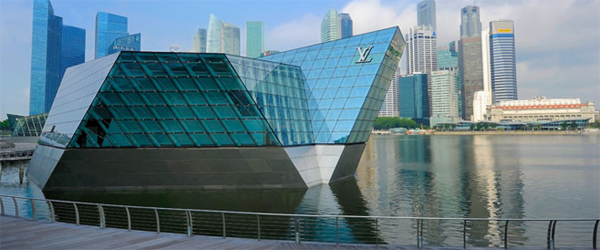 America's Cup sponsor Louis Vuitton might be angling to bring the World Series to Singapore, given the lifestyle brand's latest announcement. The luxury fashion house has launched its new Marina Bay Sands floating island Megastore in Singapore.
Designed by award-winning architect Peter Marino, the Louis Vuitton Maison megastore floats on the water, and is able to host visiting yachts as part of one of the most sophisticated shopping concepts in the world.  Marino wasn't the only designer who contributed in the new interior. Fifteen internationally recognized artists from the likes of Richard Deacon and the famed illustrator Ruben Toledo also took part.
Mr. David Sylvester, Vice President Retail Asia, Las Vegas Sands Corp, said:
"This unique Louis Vuitton store at Marina Bay Sands speaks volumes about the visibility and credibility we have established in the retail community. Retailers recognize the quality of Marina Bay Sands which will attract high-level visitors from Singapore and beyond because of our winning combination of luxury brands, Celebrity Chef restaurants, a luxury hotel, a casino, expo and convention facilities, and world-class entertainment under one roof."
[wikichart align="right" ticker="OTC:LVMUY" showannotations="true" livequote="true" startdate="27-03-2011″ enddate="27-09-2011″ width="300″ height="245″]
The Louis Vuitton shopping experience also features, a deck reminiscent of an outdoor yacht along with an eleven metre high mast. Visitors arriving by foot can reach the store either via an underground tunnel adorned with artwork or an outdoor bridge.
Louis Vuitton is the Official Timekeeping Partner of the America's Cup World Series, but Singapore will host the final round of the 2012 Extreme Sailing Series in December.