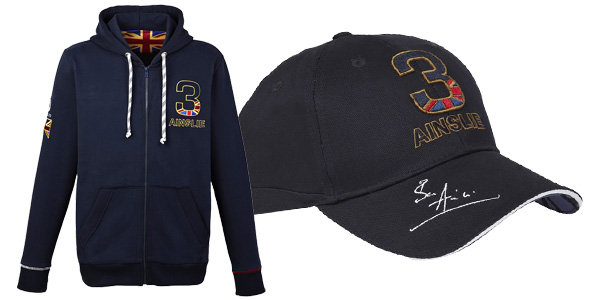 Ben Ainlise GBR 3 Collection by Henri Lloyd
Sailing clothing manufacturer Henri Lloyd have launched a new range at the London Boat Show for Ben Ainslie fans. The Ainlie GBR 3 Collection features a cap and hoodie with the Olympic sailing star's sail number and signature.
The merchandise is fiercely patriotic as London prepares to host the Olympics in 2012. The cap and hoodie feature the union jack and colors of the british flag.
Henri Lloyd says that the Ainslie GBR 3 collection for fans will be available from Easter 2012.
The range comprises casual lifestyle clothing for men, women and children and features Hoodies, Polos, T's and caps.
In the same week that Ben launched Ben Ainslie Racing (BAR), a new America's Cup World Series team, the Finn medalist said:
"It's an honour that Henri Lloyd have again decided to launch a clothes range under my name, it was exciting to work with them on the development of the Ainslie GBR 3 Collection and I'm really pleased how it's turned out, it looks great! Henri Lloyd has sponsored me since the Atlanta Olympics in 1996, it's good to know that such an iconic brand is supporting my Olympic campaign and I look forward to working with them for many years to come."
Henri Lloyd have stepped up their merchandising know-how in recent years through the sponsorship of the Braun F1 team and then the Mercedes Petronas Formula 1 team. The company makes and sells a wide range of branded merchandise including caps and shirts.
Whether the Ben Ainslie GBR 3 cap sells as well as one with Jenson Button or Michael Shumacher's name on it remains to be seen, but in an Olympic year, when Ainslie has a chance of being one of the greatest Olympians of all time, let alone sailing Olympians, support will be high.
Ben Ainslie Racing (BAR) is yet to announce their clothing partner.