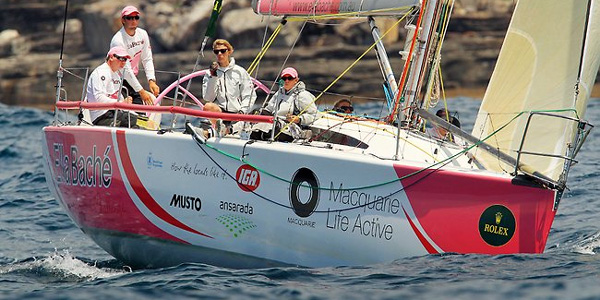 Jessica Watson will sail as crew aboard a catamaran in the H&R Block Three Peaks Race in April.
After skippering a youth team in the most recent Sydney Hobart Race, the well known sailor will join MTA Big Wave Rider, skippered by Bruce Arms who was project manager for her solo unassisted circumnavigation.
Watson said:
"The H&R Block Three Peaks is a great event that has been on my 'to-do' list for a while. So I'm looking forward to contesting my first race this year with my friends Bruce and Suzanne Arms on Big Wave Rider. Having mountain runners as part of our team will be a unique experience. Thankfully I'm a sailor! "
An annual event since 1989, the H&R Block Three Peaks Race is a unique team competition comprising three short-handed offshore sailing legs totalling 335 nautical miles, and three mountain running legs totalling 133 kilometres with an overall ascent of 2646 metres. During the three days of racing competitors will travel through some of Tasmania's most scenic coastline.
Watson continued:
"Sailing in Tasmanian waters is a challenge I enjoy. The bonus this time is that the course will take us right in amongst the spectacular scenery of the Bass Strait Islands and Tasmania's stunning East Coast."
Watson is one of Australia's best known sailors, drawing more publicity and social media interest than the entire Australian sailing team. Her continued involvement in the sport helps to speak to a different audience in a different way.