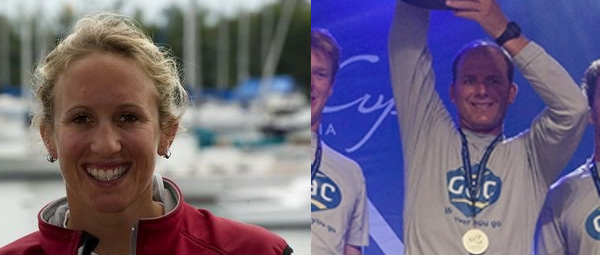 Etchells World Champion Bill Hardesty and ISAF Women's Match Racing World Champion Anna Tunnicliffe have been named US Sailing's 2011 Rolex Yachtsman and Yachtswoman of the Year.
The winners will be honored on 22 February 2012, during a luncheon at the St. Francis Yacht Club in San Francisco, when they will be presented with specially-engraved Rolex timepieces.
2011 Rolex Yachtsman of the Year
Bill Hardesty was first shortlisted for the award in 2008 – when he won the Etchells World Championship. Hardesty's notable performances as tactician included winning the 47th Congressional Cup in Catalina 37s and the CMRC Grade 2 Invitational in Tom 28s, along with top finishes at the Rolex Big Boat Series in Express 37s (second) and the Farr 40 World Championships (fourth). From a personal standpoint, however, Hardesty is most proud of winning the ISAF Match Racing World Championship as tactician for skipper Ian Williams (GBR).
Hardesty said:
"This is a huge honor.The long list of past winners is very impressive and includes people who I have always considered to be the best in the world. I would first like to thank Rolex for making sailing what it is today. Without their sponsorship of sailing, the sport would be a lot different.

A lot of credit goes to the teams I raced with this past year. Sailing is truly a group effort and winning this award would never have been possible without great teammates: the Etchells World Championship team of Steve Hunt, Mandi Markee and Craig Leweck, and Team GAC Pindar skippered by Ian Williams."
2011 Rolex Yachtswoman of the Year
Shortlisted for the honor for the seventh consecutive year, Tunnicliffe is the first woman in the award's history to earn it in four consecutive years. A member of the selection panel noted her level of dedication to the sport, while another remarked that she is a tremendous ambassador for sailing. She joins the rare company of four-time winners JJ Fetter Isler (1986, '91, '97, '00) and Ted Turner (1970, '73, '77, '79). Only five-time award winner Betsy Alison (1981, '82, '84, '93 and '98) has eclipsed them.
Tunnicliffe said:
"I'm honored to win the 2011 Rolex Yachtswoman of the Year award. It is a great acknowledgment of Team Maclaren's success in 2011. Molly [Vandemoer], Debbie [Capozzi] and I worked incredibly hard to achieve our 2011 goals and we are now focused on our 2012 goal – to win a gold medal in Weymouth."