Yacht Racing & Sailing Facebook Fan Chart
In January 2011, we started to monitor how yacht racing properties were using Facebook to talk to their audience. We now have 12 months of data to show which brands take this particular brand of social media seriously and who is still struggling. This page shows the Top 50 brands in our list.
The numbers are small. Compared with other sports and other entertainment brands, the top properties in sailing are nowhere near where they could or should be. Whether or not you think growing your Facebook audience is important or not, these numbers are a fair proxy of how the sport of sailing is engaging the audience.
Top 50 Yacht Racing and Sailing properties on Facebook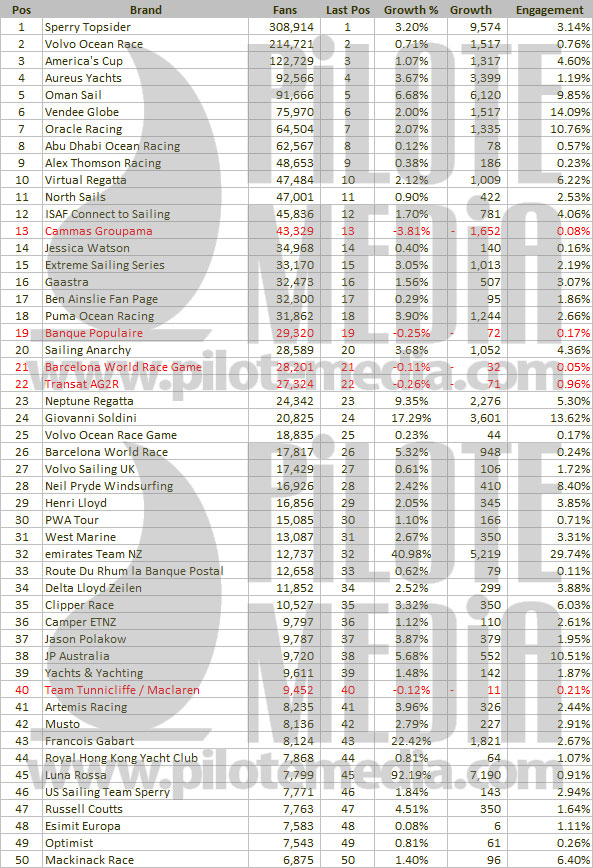 Last Updated – 1 March 2013.
Notes
Engagement is the number of people 'talking about' a page divided by the number of likes.
We now monitor 85 yacht racing & sailing properties including all America's Cup Teams.
If you would like your brand or organisation to be monitored, please contact us
Controversy
Sperry Topsider. Some believe that Sperry has no place in this list, and that if we include them, then we should also include Volvo Cars, PUMA and other sponsors who have sailing content on their Facebook page and a lot more followers. The difference between Sperry and Volvo is that the shoes are worn during competition and a car isn't.
Jessica Watson. We added Jessica on December 1 as she has announced she will compete in the Sydney Hobart race. This list is not a proxy for popularity – it is a proxy for investment in and engagement with social media. Having said that, there are individuals who do think social media is important who haven't captured the Facebook generation's imagination the way Jessica has. At the time of writing, Abby Sunderland had around 22,000 likes, however, Jessica's continued involvement in competitive sailing is the reason we have included her and not Abby.
Windsurfing. We also added several windsurfing properties to the list in December 2011. Both the International Olympic Commission (IOC) and the world governing body of sailing (ISAF) see windsurfing as part of competitive sailing.  One of the reasons to add windsurfing brands into the list is to give 'traditional' sailing properties some perspective – so that they think a little bit outside of the box.
A note on paid content :
Back in dot-com boom 1 thousands of websites gave away tons of free content in an attempts to increase 'hits' or 'registrations' to justify huge valuations to their VC investors. The world has changed, but generating valuable contents is perhaps more expensive than ever.
Some people think that even £1 is too much to pay for information that has taken time and effort to collect and publish.  Others think that compared to paying a sports-marketing or research firm to report on such information, £1 is a bargain. 
There is an alternative to the subscription model. Any brand or company that wants to sponsor this page and make it free to everyone should contact us.