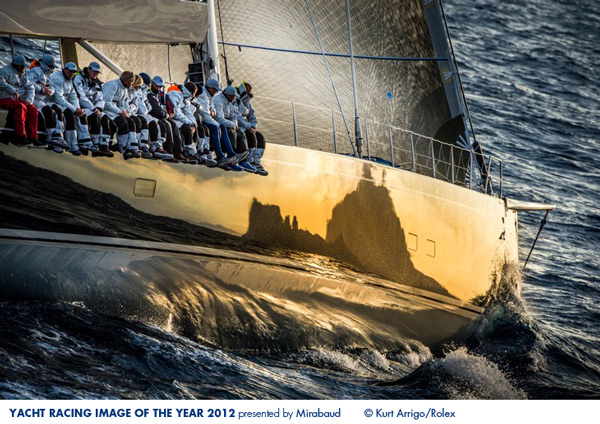 Yacht Racing and Sailing might not always make for the best television, but the sport can deliver some stunning photographs that convey all the emotion, passion and aspirational qualities that other sports can.
Running alongside the World Yacht Racing Forum, the Mirabaud Yacht Racing Photograph of the Year Award attracts entries from around the globe and showcases the talents of the sailors as well as the the photographers.
24 photographs were on display to delegates of the Word Yacht Racing Forum in Gothenburg, Sweden to decide which 5 would be voted on by a panel of experts – and the winner was Kurt Arrigo from Malta.
His photograph was taken during the Volcano Race and features the yacht Nilaya and the reflection of the island of Capri on her hull. He said about the photo:
"This picture has been taken during the Volcano Race 2012. The weather had been bad all day, but the sun suddenly came out for a short while. We were leaving the area but I asked the pilot of the helicopter to fly back briefly over the leading boat; that's when I took this photograph. I am absolutely thrilled to receive such a prestigious award. It is a great honour for me."
Shirley Robertson,double Olympic Gold medallist was one of the jurors who had the final say. She said that:
"the quality of this years' finalists really is extraordinarily high; each photograph tells a story of an exceptional year in our sport. I loved them all".
According to Christian Février, a legend of yacht racing photography:
"the reflection at twilights in the hull was interesting. But the importance of the crew creates a second point of interest. It's a great shot, that would have been impossible to do twenty years ago with the films of very low speed we used then."
2012 Yacht Racing Photo of the Year Finalists
1. Kurt Arrigo
2. Ian Roman
3.  Thierry Martinez
4. Tom Gruitt
5. Matias Capizzano
The award was won by Thierry Martinez in 2011 and 2010.