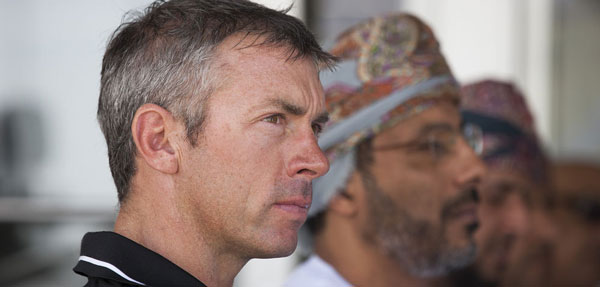 The Extreme Sailing Series in extending it's concept of a locally based invitational team in 2013. The idea is to give local spectators a 'home team' to cheer for as the series visits different countries and cultures around the world.
The opening round in Muscat Oman will feature Team Duqm Oman headed up by past Extreme Series Champion Robert Greenhalgh.
The sponsor of the team is "one of the world's largest Special Economic Zones". Duqm is a geographical designated Free Trade area to the southeast of Oman.
Greenhalgh's CV is impressive – three Volvo Ocean Races, seven Atlantic crossings, three World Championship and a host of European titles to his name means that he is not 'new' to this kind of competition.
He said:
"We won the Series in 2007 and came second in 2008 but things have obviously evolved since then; more competitive teams, more boats. I think the racing is probably a little more start dependent and everything has got a lot more professional and the manoeuvres are critical. It will be a lot harder than it used to be and we have focused on getting the boat handling nailed down. I will have to get used to the new race format and the reaching starts and focus on making it happen for us on the water."
Greenhalgh is joined by Extreme 40 heavyweights Andrew Walsh (GBR), who shared skipper duties of GAC Pindar in 2012, and Will Howden (GBR), an Olympic Tornado crew who came second in the 2012 Series with Oman Air. Bleddyn Mon (GBR), who competed at four Acts with The Wave, Muscat in 2012 and Omani bowman Nasser Al Mashari complete the Team Duqm Oman line-up.
The opening round of the Extreme Sailing Series will be available to fans to watch live online each day from Muscat.